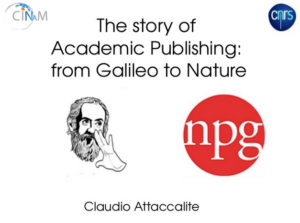 I was invited to give a seminar at the conference of young Italian researchers.
At this conference I will present a  talk on the story of academic publishing.
I will briflely present the story of academic publising, from the first journals to the modern publication system, passing through open access, impact factor, etc…
I show how big publishers make a lof of money thanks to the free work of scientisits, that in search for prestigies support high-impact factor journals. Finally  I will present  valid alternatives to the present  commercial publishing system, and invite people to use them.
Here the ODP file and the slides:
https://www.slideshare.net/claudioattaccalite/the-story-of-academic-publishing-from-galileo-to-nature